Wal-Mart shooting trial includes worker and cops' testimony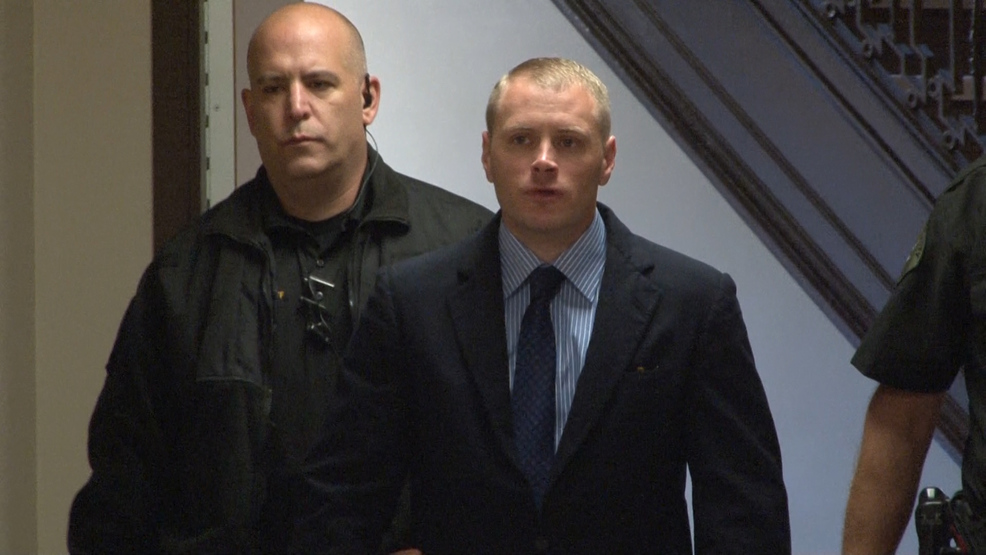 UPDATE: 12/14/2017 - Scott Sargent was sentenced to 179-358 years today in court in front of Judge Lupas on the third floor. He ran many of the sentences consecutively which means they will not be served at the same time and will receive credit for time served since 2015.
He was convicted at a jury trial back in October. The prosecution explained Sargent got tattooed with a skull or skeleton person looking over 5 tombstones with the names of each of the five officers he was charged with trying to kill.
Prosecutor Jarrett Ferentino told the court that now Sargent will be reminded each day that he failed to kill them.
Sargent did not say anything to the court
Officer Brian Bouton's wife and 11-year-old son did testify about the hardship that day placed on them.
WILKES-BARRE (WOLF) -- A Shenandoah man is on trial for attempted homicide after a shooting at Wal-Mart in Wilkes Barre Township two years ago.
Today, several police officers testified how they were scared for their lives as a man kept firing his AR -15 assault rifle at them in October 2015.

We also spoke with a former Wal-Mart employee about his terrifying ordeal that happened on a Saturday.
"We had wood pallet stacks out there, and we've seen people try to take the pallet stacks," says Zach McNeill, who worked at the Wal-Mart auto center.

McNeill says he knew a car was stopped near their garage, but didn't think much of it at first, until he heard something weird.
He went to a closed bay window to check and saw someone near a silver Mitsubishi car.
"He was outside by the car," says McNeill. "He was pacing and kind of frantic, yelling, and once he made eye contact with me through the window, that's when he reached in the car, pulled out the rifle and started firing."
McNeill got away from the window as bullets hit the garage doors. He says police soon arrived, and the man then shot at them.
Police say it was Scott Sargent, 33. Under heavy gunfire, township officers testified they couldn't get close enough to shoot Sargent with their handguns, and radioed for city police and their long guns.
During his testimony, one officer, Jude Allen, described how he hid behind a Wilkes-Barre Township fire chief car that was parked there.
"He then raised his weapon and began to fire," Allen testified in court. "I prayed."
Suddenly, Allen, who'd just come from a detail at Wegman's, said he ran forward to a wall corner, where he was able to hide behind it and get off 15 shots.
"I knew that if I got there, I would have a fighting chance to stop him," says Allen.
Allen says the man was shooting and cursing, calling them "pigs" and saying "come get some," as Allen kept ordering him to drop his weapon.
Another officer, Brian Bouton, moved forward in his township police SUV, saying shots hit his grille, and radiator, which started dropping fluid.
Bouton, who'd just come from a King's College football game detail, said he thought: "That I was dead. I was never going to get to go home to my family."
He says the man put the AR-15 on top of the Mitsbuishi, like a bipod, and Bouton ducked before a bullet came through his headrest.
His wife, Stacy, says she didn't know that detail, and see the picture showing a bullet hole in his windshield, until Wednesday while listening to the testimony in court.
"I only knew that his vehicle took rounds and I had some of the other officers tell me what a hero he was for putting his life out there for them, and a few of them did say they didn't know if he was alive or dead," says Stacy Bouten.
Police say Sargent, holding his AR-15, ran between two shipping containers at the back corner of Wal-Mart and an officer shot him in the abdomen, and Sargent kept cursing.

McNeill, 23, says after what happened that day, he can't work in a garage again, although he did try working at a different one.
"Every time that you would hear a tire be seated, which is the vast majority of noise that you hear in a garage, it's very reminiscent of a bullet, and that's exactly what it sounded like when that first shot was fired," says McNeill.
Stacy Bouten says she found herself looking at Sargent and wondering how someone could do this.
"To basically sit there with a blunt look on his face, not knowing that I may not have had a husband, my children wouldn't have had a father," says Stacy Bouten, referrring to her four kids.
Also on the stand were city Officer Mitchell Rennick; Sgt. Joseph Sinavage, an Afghanistan veteran who testified he advanced in a city SUV before getting out, along with Bouten from the township SUV; township Officer Lee Ann Reh, who was on watch commander duty and drove around the back of Wal-Mart and got eyes on a shooter; and city officer Alan Gribble, who shot the man in the abdomen.
"Sometimes you have to do what you have to do and I'm covering for all of them at that point. It was just an open area and they were all targets. ...Basically I felt like I could die," says Sinavage on the stand, adding how he briefly thought the officer, who turned out to be Bouten, was dead because of the shattered windshield. "We were basically moving towards gunfire as our training shows us to."
An AR-15 rifle that police say Sargent used was also shown to the jury.
In his cross examinations, a defense attorney mentioned crystal meth and alcohol are a bad combination. He also kept reiterating that none of the officers were actually hit by the gunfire.
The attorney also mentioned how a woman was with Sargent. An officer said she did not look like a "willing participant." The defense has not yet started its case.
Unmute